United for mountains: Oxygen & EcoXtrem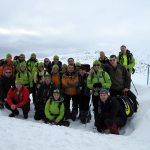 During winter, when you do not know whether to taste the joys of nature or to dream at the future godly birth, we decide to go on a mountain adventure – a spiritual experience of self-improvement and fraternization for idealism. EcoXtrem and Oxigen choose to explore the imposing Bucegi Massif where each element keeps the harmony of this realm that has never forgot the truth and peace. We shake hands with each other. Everyone shows enthusiasm especially because we have the chance to share thoughts and feelings with mountaineers like David NEACŞU and Dragoş SAIOC. We ask for the weather forecast from Mountain Rescue services and meteorological station. They inform us that a strong wind is present in the northern part of the massif and that in some areas, avalanches have produced. Thus, we choose the optimum trail for our group and our equipment in order to avoid unpleasant events. We want to reach Padina, but the final decision will be made at Piatra Arsă.
The climbing starts with small steps but at a uniform pace. After the first break for body temperature balance, we slow down the pace only on the steep slopes that pass the valleys. I gladly notice that the two teams have homogeneously mingled and exchange ideas, mountain stories, use techniques of ice axes and ice crampons. People's freedom and openness towards knowledge are in the air. Age barriers vanished long ago and prejudices flew with the winds.
After a 5 hour ascension, we stop to eat and to get back our energy again. We prepare ourselves for the last part of our trail – a difficult part – by noticing the versants and looking for less risky steps to take.
We finally reach Bucegi Plateau where a friendly weather welcomes us. We continue our ascension to Piatra Arsă, but this time Weather God has turned his back on us and forced the group to spend the night here.
After the long-expected meal (we eat our homemade food to which we add with other things from our host), we congratulate ourselves with a glass of wine for our successful ascension.
Ideas discussed over our climbing come to another form – that of projects common to both Oxygen and EcoXtrem. Main topics focus on ethics and methodology in mountaineering and ecology.
We realise we all manifest a great desire to establish an efficient communication between those who have mountaineering passion and to implement projects that engage more national mountain organizations.
In the end, we let ourselves to the magic of mountain songs and of their stories, thoughts, memories.
Next day chosen trail led us to Sinaia.
We have our last meal together and head back to our homes wishing for another adventure like this with more mountain organizations.