Oxigen was conquered by Tatra Mountains!
Until now we were used to proudly say that we have conquered a new peak, but this time we can say that we were conquered by them – Oxigen Association was conquered by the beauty of Tatra Mountains!
The experience of this weekend was a one to remember, starting with Spissku Castle – one the biggest from Europe and ending with Rysy Peak – the highest from Poland – 2499 m.
They haven't passed unobserved the small details like the Tatra Tea, the cold unstoppable rain, the well marked trails, the fast waterfalls, the shape of the rocks, the entire nature.
The trek was a big challenge and a competition – Who will be the last with wet feet? – we've crossed a small river thousand times, we've jumped from one rock to another, hold on chains, climbed and we reached the top – surrounded by fog and friends. It feels so good to have the beloved ones next to you, the rest doesn't matter! And in the end we received our reward – the warm sun!
In the evening we have visited also the cemetery – the place where the Slovaks put marks for the best climbers who died on the mountains paths. We felt a nice feeling, like gratitude for these people.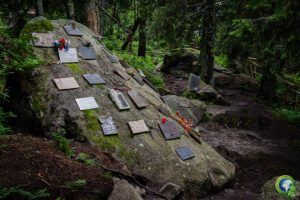 On Sunday we embarked on the Hapiness Coach and we left towards the Ice Cave from Slovakia, a snow white palace where we passsed near translucent walls and hidden rocks.
In the morning we arrived in Bucharest – tired but with a great joy in our souls! We were conquered and it is so nice!