David Neacşu and Oxygen Organization on Rwenzori Mountains, Uganda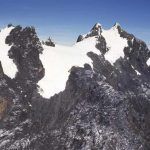 Opening: an African mountain trail is mapped by a Romanian team
David Neacşu and Oxygen Organization mapp a new climbing trail on Rwenzori Mountains.
David Neacşu, the leader of the first Romanian expedition on Everest, with five Oxygen members go on an expedition on Rwenzori Mountains having as main objective to map a new mountain trail towards Margherita Peak (5109 m), climbing the glacier Stanley Mount. The glacier, tracked by David Neacşu for eight years, had decreased because of the global warming, destroying the old climbing trails.
"In 2004, I planned my first expedition on Rwenzori Mountains and I reached Margherita Peak (5109 m). The ice on Stanley Mount, which I have climbed on my way to the peak, began from 4300 m. In 2011, I planned the second expedition on Rwenzori. After 7 years from the first measurement, the ice on Stanley level decreased with 300 m. In 2012, that is in one year, it has decreased with 200 m, starting from 4800 m altitude. Old climbing trails are impossible to use, thus, the objetive of our expedition became mapping a new trail, trying to raise awareness at the same time on global warming phenomenon. It's quite probable that we are the last Romanians to use the existing trail, if the ice continues to melt at the same speed.", declared mountaineer David Neacşu.
"Global warming is an authentic threat and the melting speed of ice on Stanley Mount is a warning sent by nature. This warning has to be propagated by each and everyone of us. Environment protection is the main objective of Oxygen Organization and this is the reason David invited us to join him on this expedition. We believe that, first of all, we need to offer priority to nature conservancy as even the least significant human actions may cause irreversible changes, either good or bad. All depend on us!", added Sorin Delivasile, the President of Oxygen Organization.
The expedition takes place between 12-21 February 2013. The flight is from Bucharest to Entebbe (Uganda) via Istanbul. We leave Entebbe for Kasese where we start our adventure through the equatorial jungle for 3 days until we reach Helena Hut at 4300 m altitude. From this point, we climb  what remained from Stanley glacier in order to reach Margherita Peak (5109 m).
We are, probably, the last Romanian to pass this glacier on the old climbing trail.
Expedition members are David Neacşu, Sorin Delivasile, Andrei Voicu, Pestişanu Sergio, Radu Coman, Cristian Cochină.